POS system software for Landscaping & Nursery Businesses
Landscaping & Nursery business overview
Customers who visit a nursery or landscape yard know what to expect. The sales area is usually rather large, open, and can be a mixture of weather conditions.
The use of a mobile device like the Idealpos W1/W2 tablet, allows you to walk around with your customer, adding the order to their account as you go. Sometimes delivery is required and you can get all the information during the sales process.
Printing labels and reading barcodes would also be a great feature to have. Use the W1/W2 to scan the items as you walk, or to enter the cubic measurement of ordered soils and landscaping supplies. Promotions would be instantly displayed as well as looking at orders yet to be delivered and stock that is currently on hand.
Customer Accounts
Gift Vouchers
Mobile Sales Tablet
Pending Sales
Stock Item Alert Levels
Loyalty Cards
Counter Intelligence software features
Layby

Customer Loyalty

Gift Vouchers

Special Orders

Sales & Inventory Reporting
Multi-Store Management

Stock Data

Customer Data

Salesperson Data

Integrated Payments
Customer discount matrix

Inventory Management

Label Printing

Stocktake terminal interface

Size/Colour/Style inventory
Gift Vouchers
Gift Vouchers may be sold through Idealpos for redemption at a later date which you can decide. You are able to keep a record of purchased vouchers in case of loss or theft. They may be linked to your custom stationery, gift cards or Idealpos can print the voucher on your receipt printer.
Each time a Gift Voucher is used, the amount of the sale will be deducted from the original voucher, and a new voucher will be printed with the remaining balance. The expiry date will not change on the voucher unless edited by a Clerk.
Customer Accounts
Customer accounts are often used in nurseries and landscape yards as a lot of customers are buying repeatedly or are returning regular customers. The use of accounts allows you to offer customers the ability to take goods on the day and invoice them at the end of the month.
Customer accounts also work well with pending sales. This allows the customer to order products where you can put together the order and then flag it as an item which may be delivered or picked up at a later date.
The maintenance of a good customer database enables you to see sales trends and anticipate sales based on purchase history as well as the ability to add targeted marketing to your marketing plan. Customers can be sent promotions such as coupons or gift vouchers encouraging them to return to your business.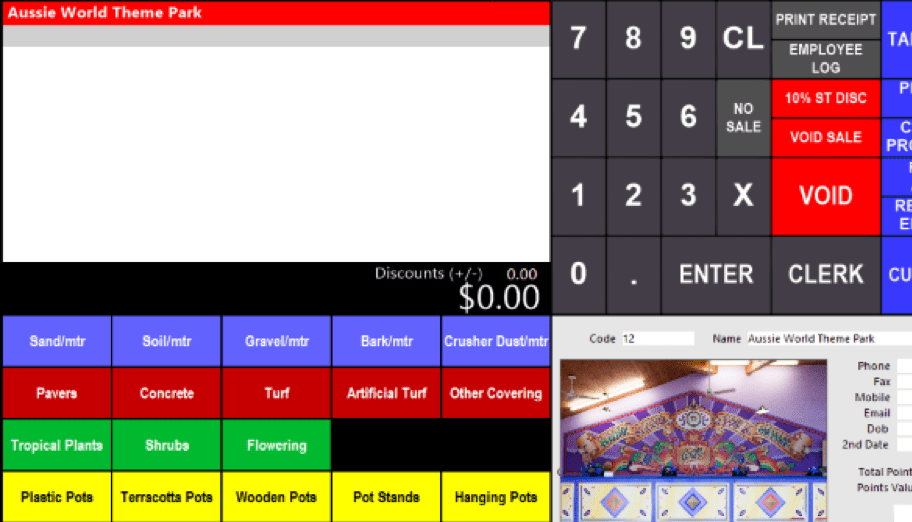 Mobile Sales Tablet
Idealpos now supplies a mobile 7" tablet running Windows 8.1 that includes a full install of Idealpos 7. This allows you to record the sales and add customers all while walking around the yard. Pending sales can easily be entered and attached to customer accounts for delivery.
The tablet is a rugged design and is also IP54 water and dust proof. You can even add a barcode reader for quick identification of the products throughout your store.
Pending Sales
Pending sales are primarily used for when you are walking around the store taking an order which can then be flagged as pick-up or delivery and then added to a customer account. An A4 invoice can be printed to go with the items which can be signed as a delivery docket.
Pending sales are also very useful for saving a sale halfway through the process while more information is sought for the customer, or the customer looks for more goods to purchase.
Stock Item Alert Levels
Stock item alert levels let you or your staff know when an item may be running low and can no longer be purchased, or needs to be ordered. Product buttons can be set up to display how much of an item is remaining in stock.
When an item reaches the preset alert level, a message is displayed on screen. This prevents disappointing customers by pre-empting the number you have to sell. It is very useful for promotions or if you only have a minimal quantity of an item in stock.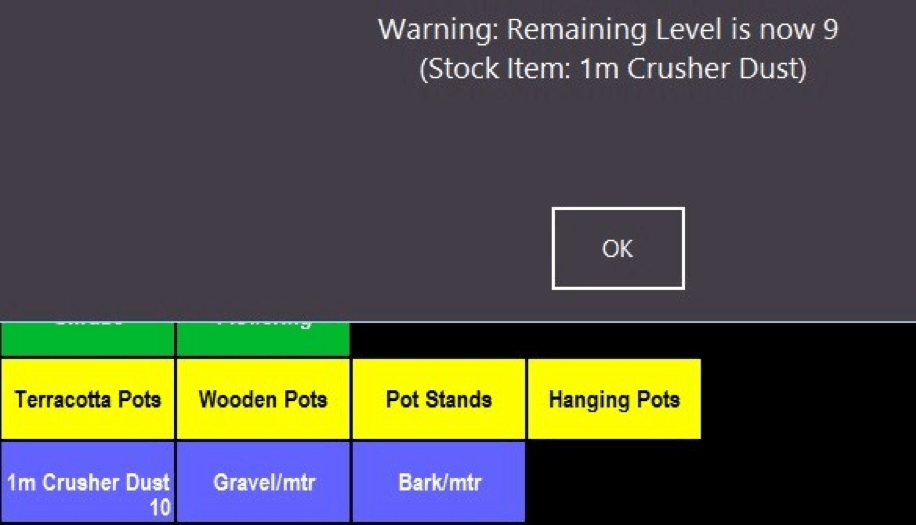 Want some help?
Just ask our friendly team!